thanks B&N!!
Free Fridays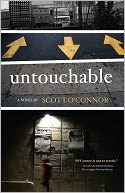 When we named Scott O'Connor's novel Untouchable a Barnes & Noble Discover Great New Writers selection this spring, here's what we had to say: "Tender, haunting, exquisitely profound; O'Connor's debut novel is an eloquent celebration of familial love made all the more poignant by tragedy. Painful, yet liberating, 'Untouchable' takes the measure of a father and son with honesty, humor, and uncommon resonance."
 Today, this fantastic debut is our Free Fridays selection, and I'm excited to share this critically-acclaimed novel with NOOK readers. O'Connor's subtle but self-assured writing captures the grief of a widower and his son, both grappling with their family's loss in their own way. David, the father, works as a trauma site clean-up tech, and while he's confronted with gruesome deaths on a daily basis, he's unable to process the trauma of his wife Lucy's passing. His son Whitley is having an even harder time adapting to life without his mother, refusing to speak and instead filling copious notebooks with his fantastical thoughts.
As this fractured family retreats into even more isolation, both David and Whitley start to believe that the circumstances of Lucy's death aren't what they first seemed, and each loses his grip on reality while struggling to snap out of a downward spiral.
As the Los Angeles Times stated, O'Connor really is "one to watch," and his freshman effort is one of the best debut novels of the year.