as our fellow Hoarder Jackie is doing this week (lucky duck) and she mentions she wants to track down the most enormous used book store in the area, and you have myself sitting at work trying to find ways to not productively complete work, you may find yourself searching out what this book store is all about. Well….it's called Powell's and takes up an entire city block. (Gawd, how I wish I was there right now!!!) Anyhoo…while searching their site (thank you Jackie!!) I found this book which well, pretty much sums up our hoarding issues, and is a Staff Pick! Realizing you have a load of books on your shelves that you haven't read yet? Clearing time to actually sit and read through them? Sounds like a good read to me! BUT – can I take a year off of buying books? HORRORS NO WAY!!!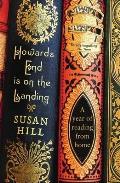 Howards End Is on the Landing: A Year of Reading from Home
by Susan Hill
Staff Pick
Struck by the sudden realization that she possesses quite a few books she's never read, author Susan Hill decides to take a year off buying books so that she can read, and reread, the many treasures in her possession. Howards End Is on the Landing is the delightful result of this experiment. It's a compilation of observations about books, novelists, and the publishing business. Quirky, yet charming, the book was a joy to read.
Recommended by Sheila N., Powells.comIn pursuit of a book on her shelves, Susan Hill encountered dozens of others that she had never read, forgotten she owned, or wanted to read for a second time. The discovery inspired her to embark on a year-long voyage through her books in order to get to know her own collection again.

Susan Hill is the winner of numerous prestigious literary awards. She is the author of a highly successful crime series as well as the famous The Woman in Black.